ZugZwang Festival II Betonbox (CMR003S)
Begleitend zum "ZugZwang-Festival II" in der Weststadt Bar, Darmstadt am 05.11.2011 wurde dieser Sampler veröffentlicht.
Dies ist die auf 40 Stück limitierte Betonbox-Edition. Zusätzlich gibt es auch noch die auf 360 Stück limitierte reguläre Edition.
Das Festival fand in einem ehemaligem Lokschuppen der Deutschen Bahn direkt an den Gleisen nördlich des Hauptbahnhofes. Bilder zum Festival, Videos und Konzertberichte gibt es hier.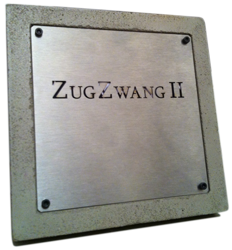 Katalog Nr.: CMR003S
Tonträger: CD
Veröffentlicht: November 2011
Auflage: 40 Stückt
Anzahl Tracks: 11
Diese Edition ist ausverkauft
Tracklist
Cent Ans de Solitude - Shadows of life
Cent Ans de Solitude - Beyond the darkness
Cent Ans de Solitude - Irradiation
All tracks recorded from Oktober 2010 to August 2011 by Cent Ans de Solitude.
www.wix.com/centansdesolitude
 
M.A.O. - Aju

M.A.O. - Immer mehr (live)

M.A.O. - Pictures and the wall
"Pictures and the wall" and "Aju" recorded by Panzar, Pervere and Popov in August 2011.
"Immer mehr" recorded live in Erlangen at "UMB Ten Years Anniversary Night", 18.12.2010.
www.umbkollektif.com/mao/
 
PPF - Nous sommes ici quelques-uns
PPF - La Bête règne
PPF - Le reveil
This opus is a kind of follow up to the 10inch "En Dehors"
released in 2001by La Nouvelle Alliance.
Music by PPF, Text by Zo d'Axa. PPF is Jericho & Kontroleur UBU.
Special thanks to Saphi, Eric & Mel.
 
Esplendor Geometrico - Aplicación Insospechada RMX
Esplendor Geometrico - Ensiladora JF50 RMX
Esplendor Geometrico: Arturo Lanz, Saverio Evangelista.
Mastering by Luca Spagnoletti.
Both tracks composed by Esplendor Geometrico.
This versions created specifically for ZugZwang-Festival II
(original tracks appeared in 2009 on Esplendor Geometricos album "Pulsión").
www.geometrikrecords.com/esplendor
 
Cover/Verpackung
Handgegossene Betonbox, aufgeschraubte Metallabdeckung mit gelasertem ZugZwang II - Logo
 
Die Box enthält neben der fabrikgepressten CD ein 4-seitiges Booklet, einen englischen ZugZwang II Flyer und einen ZugZwang II Sticker.
 
Neben dieser Spezialausgabe gibt es auch die auf 360 Stück limitierte reguläre Edition.