ZugZwang Festival IV Schieferbox (CMR005)
Begleitend zum "ZugZwang-Festival IV" in der Weststadt Bar, Darmstadt am 02.11.2013 wurde dieser Sampler veröffentlicht.
Dies ist die auf 50 Stück limitierte Schieferbox Edition. Zusätzlich gibt es auch noch die auf 200 Stück limitierte reguläre Edition.
Das Festival fand in einem ehemaligem Lokschuppen der Deutschen Bahn direkt an den Gleisen nördlich des Hauptbahnhofes. Bilder zum Festival, Videos und Konzertberichte gibt es ZugZwang IV Rückblick.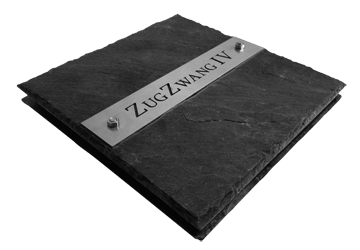 Katalog Nr.: CMR005 (Schieferbox)
Tonträger: CD
Veröffentlicht: November 2013
Auflage: 50 Stück
Anzahl Tracks: 7
Diese Edition ist ausverkauft

Tracklist
Troum - Condensed Utopia (20:56)
Concept: This piece has been created using transformed extracts from recordings of three live-shows:


Krakow: Poland (2.Dec.1999)
Bremen, Germany (12.June 2002, with Legendary Pink Dots on same evening)
Yaroslavl, Russia (12.Nov. 2002, first russian show with Bad Sector & Cisfinitum on same evening

Condensed Utopia means: The future condition / level / state (after the next transformation) is already existent (but invisible) in the present. Make it visible!
Produced by Troum Sept 2013
www.troum.com
 
Rapoon - Arguing the theological toss (03:38)
Taken from CD Tin of Drum (1998)
 
Rapoon - Tremor (08:56)
Previously unreleased
 
Rapoon - Horizon Discrete (05:37)
Taken from CD Time Frost (2007)
Produced by Robin Storey
www.rapoon.net
 
Reutoff - Der Sonnenaufgang der Besiegten (09:41)
All sounds by Reutoff. Recorded and remixed in June 2013 at Merman's Lair
 
Something chose me (07:10)
Composed & performed by Reutoff. Recorded in August 2013 at Merman's Lair
 
Reutoff - Mater Suspiriorum (07:03)
All sounds by Reutoff. Recorded and remixed in June 2013 at Merman's Lair and Mirkmoon St.
Reutoff are Arnold pR & WoWa[BT]
...Only dead men know the tunes the live world dances to...
https://facebook.com/ReutoffOfficial
Cover/Verpackung

Die Schieferbox besteht aus zwei zusammengeschraubten Schieferplatten (20x20cm) und zwei mit den Schieferplatten verklebten Filzplatten. Auf Vorder- und Rückseite liegt jeweils ein Metallband auf, das auf der Vorderseite hat den "ZugZwang IV" - Schriftzug eingelasert, das auf der Rückseite hat die Katalognummer und Limitierung aufgestempelt.
 
Es liegt eine fabrikgepresste CD, ein 4-seitiges Booklet, ein englischer ZugZwang IV Flyer und ein ZugZwang IV Sticker bei.
 
Neben der Schieferbox Edition gibt es auch die auf 200 Stück limitierte reguläre Edition.
Schieferbox Edition - the Making Of